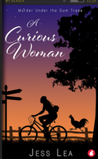 Jess Lea
Lesbian fiction. I write about mystery, desire, and humour between women.
About Jess Lea
Jess Lea is the author of A Curious Woman and The Taste of Her. She has also published short stories in the anthologies Tales of the Grimoire (ed. Ohletz and McKnight) and Don't Be Shy (ed. Ohletz and Jae).

Jess lives in Melbourne, Australia. She loves crime fiction, the writings of funny women, and lesbian books of all sorts. One day, she hopes to win the Nobel Prize for discovering a cure for writer's block.